IRMA©SM®TM: How did you get started in the modelling industry?
It was my child passion and after military career I started a line of models, first RCR and after Italian Kit.
IRMA©SM®TM: Where did Italian Mailorder Kits/CunarModels originate?
At my home in Cinisello, near Milano.
IRMA©SM®TM: Is most of your business local, regional or international?
It is the same in and out of Italy. In this last period better international.
IRMA©SM®TM: How do you decide what kits to make?
I am very incostant (inconsistant), I like all things which may be reduced in scale, so a day I start a figure, a day an aircraft, a day a vehicle, now I am working at decals for Italian aircraft, the result is that I start many pieces and take much time (months, years) to complete one.
IRMA©SM®TM: What amount of time does it take to create a kit from drawings and photos to the master and casting?
As described at previous question.
IRMA©SM®TM: Where do you see your company going in the future?
I hope better than now, I am moving in October to an (my) own spot to have a personal atelier (studio) where I can work.
IRMA©SM®TM: Is there anything you would like to share with our IRMA Members?
More time to dedicate to our hobby, and the support of all modellers, to follow and buy our products, it gives us the force to continue.
IRMA©SM®TM: Thank you for sharing your time and thoughts with us Felix! Good luck in the future!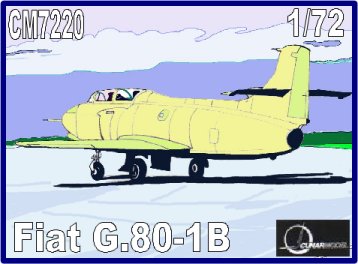 Illustration supplied by Italian Mailorder Kits
Boxart for the Fiat G.80 in 1/72 by CunarModel. This is a clean, detailed kit with the typical amazing detail including the interior that Felix brings to the market!
This kit even comes with the engine and parts not seen from the outside. The build is clean and efficient with no sanding, filing, filling or cutting required.